Turntable Vise and Turntable
Made in Nebraska, USA!
Click photos to enlarge

Low Profile Turntable Vise
(Turntable and vise sold seperatly)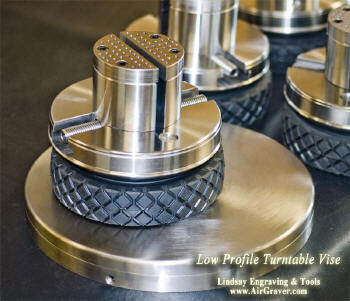 (Turntable and vise sold seperatly)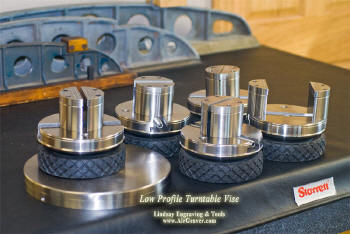 Low Profile Turntable Vise Features
**Threaded holes in base jaws for custom fixtures and homemade jaws.
**Includes pin plates, base and wrench.
**Diameter 6" (same diameter as Goliath vise)
**Jaw width 3"
**Maximum jaw opening 3.4". Wider objects can be held using pin plates (5.5") or by making homemade jaws (wood, plastic, or metal) as needed and using supplied screws to hold them on.
**Overall height 4.5"
**Jaw height 1.75"
**Weight 15.5 lbs.

Benefits to low profile
**The low profile allows tilting of the block without the viewing location moving away from the field of view in a microscope. It stays centered, in a manner similar to the larger Glide-Lock vise and the Dovetail low profile vise.
** The vise has no bearings. It unitizes the bearings of a turntable. The absence of bearings in the vise allows a lower profile which provides greater rigidity.
**The lower center of gravity provides stability so that the vise is less likely than a high profile vise to fall over when titled.

Low Profile Turntable Vise
Price $419 plus $30 shipping within USA
Note: As of Nov 23 these vises are made from stainless and with hardened stainless jaws and with a unique optional side leg that can be installed to support long weighed objects on one side to prevent the vise from tilting from the weight. Updated photos will be made soon with the new stainless turntable vise
(Price does not include a turntable)


Note: See turntable below for use with this vise or the engraving stand that has a built in turntable.

---

Leather Ring Fixture for Vise pin plates

Place these in vise pin plates to hold rings or other items.
They fit the pin plates on the Low Profile vise, later Goliath vises and PalmControl® vises.
Leather Ring Holder Price $56


---
Lindsay Heavy Duty Turntable

(PalmControl Vise in photo for size comparison.
The vise is not included in price. )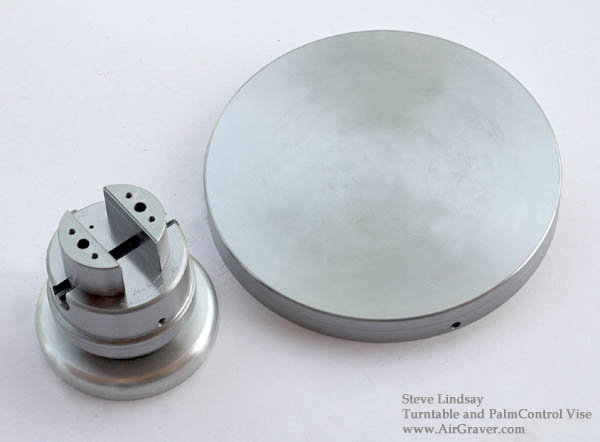 Lindsay Turntable
Specifications:
10" diameter steel turntable
Internal friction brake
1 1/8" thick
Weight 25 lbs
Price $429



---
Tips and notes on turntables
How to center a turntable under a microscope
Place your vise on top and approximately in the center of the turntable under your microscope. Adjust the distance/focus on your microscope until your project, or the jaws of the vise are in focus. Next, spin the turntable while looking through the microscope. To center, while spinning the turntable, look into the scope and push the whole turntable and/or your scope around until the view seen in the scope is spinning right in the middle of the field of view. From here, leave the position of the scope and position of the turntable alone. To get to another location on the item being engraved in the field of view, simply push the vise around on top of the turntable. This process is the same for the Glidelock vise, even though the turntable is built into the vise.

---

Thanks for Ray Cover for this information on a source of an inexpensive turntable that is fairly heavy and rigid.

The Lindsay Turntable has been built with large ball bearings and a larger diameter race to increase stability without wobble. However, if at this time you cannot justify the price of my turntable, Engraver Ray Cover discovered more cost effective solution: a Shimpo turntable that can be found on pottery making craft sites. I assume they are China made. At the bottom of the page of this link, is the "Shimpo" turntables list of banding wheels. The one to get is model BW-25L. It is 9.875" in diameter x 2.25" high and at $68.88 (at the time of writing) it's hard not to recommend it for beginners or anyone with a tight budget. I noticed a little wobble in the one I tested, but it wasn't bad.