Review by Steve Lindsay
I had an opportunity to try a stand (pictured to the right) made by Shanna Hawk. The platform is overbuilt, very ridged, with heavy gauge-welded metal construction and powder-coated. It is ideal for gun engravers who swing long barrels or for engravers who engrave large or long parts. It is of course also very nice for smaller projects such as knife or jewelry engraving.
The Dulin-Hawk stand pictured to the right has a OPMI-1 microscope with a Lindsay Glide-Lock Vise mounted on it.
One nice about working with Shanna at Dulin-Hawk is that she will customize the platform for each customer's needs. The platform shown has a custom-shaped top made from a steel plate. In addition, microscope mounts are made custom for each customer's needs. The height of the platform is easily adjusted up or down with a pneumatic cylinder and lock. I am impressed with the workmanship and design of the Dulin-Hawk Platform.
For more information contact
Shanna Hawk Moran
Phone 432-528-0646
Email shmoranz@clearwire.net
Dulin-Hawk Hand Engraving Platform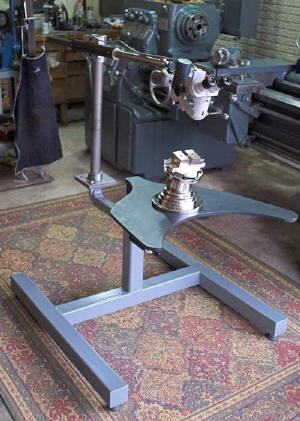 Click Photograph to Enlarge