The More Versatile CLASSIC HANDPIECE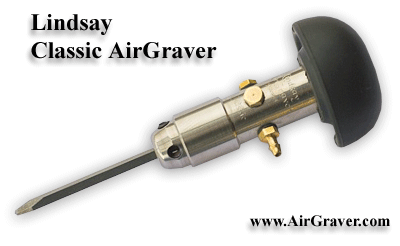 The versatile Classic is the same handpiece as its predecessor, but the new bore is easily replaceable with a removable sleeve. The Classic comes standard with a stainless piston. A second piston (tungsten dead blow) can be purchased for additional power. Three handpiece tubing attachment locations for customability and comfort. Non-slip rubber handle. Full stroke adjustment. Rapid 3/32" square graver change without collets.
Lindsay gravers are made form surgical stainless steel. No aluminum is used in the construction of the tool.
The tool's patent pending removable bore provides for an extra air pocket in the handpiece. This pocket is ported to the rear chamber, providing the following improvements:
ü The piston changes directions in the rear chamber gradually, resulting in less vibration, smoother cutting and less noise.

ü The piston hesitates for a few microseconds in the front chamber following an impact stroke, giving the effect of what is known as a "dead blow". This is what occurs when a hammer hits an anvil and there is no recoil. The impact inertia is transferred through the anvil to the graver with no bounce. The result is less vibration, and more energy transferred to the graver.

ü The patented idle is improved. The idling handpiece can be turned down finer than prior handpieces, and, with the stainless piston, can be turned down so low that it is not felt. The tool will idle with less air (or CO2), as well as more easily maintain an idling state. Small amounts of oil from an older unfiltered air compressor do not affect the idle as much as on prior configurations.

---Click here to see a Gallery of work created with the Classic AirGraver---
| | |
| --- | --- |
| Optional custom burl wood handle for foot pedal Classic handpiece | |
The Classic handpiece comes with a stainless piston. A tungsten dead blow piston can be purchased separately. Tungsten weights 2.5 to 3 times than stainless and provides heavier impact power for deeper engraving, carving or hammering.

Left: Classic handpiece with a PalmControl handle set up to run from a pocket sized CO2 cartridge. Click to enlarge
Classic Handpiece Impact speed range
Stainless piston = 2,400 through 15,000 strokes per minute.
Tungsten Dead Blow™ piston = 1,500 through 11,000 strokes per minute.
| | |
| --- | --- |
| The length of stroke adjustment collar on the Classic handpiece provides a multitude of hand pieces in one tool. At any given stroke length setting, the power is varied with air pressure from the foot control or PalmControl (.5psi to 60psi). The absence of an internal spring means uniform performance throughout the range, with no sweet spots or non-working spots. The full range of power and speed is consistent throughout due to the internal automatic balance of air pressure on both the impact and return strokes. | The tool requires little air volume for operation. 0.05 to 0.2 CFM depending on the depth of engraving or impact operation. This means the life of an air compressor will last longer and a smaller compressor can be used. |
The Classic handpiece includes length/speed stroke collar, rapid graver change, a Teflon bore in a 303 stainless body, and a hardened 440C stainless piston, anvil, and nose. No collects required for rapid graver change. Also included are three high speed steel 3/32" square graver blanks, a leather handpiece pouch, extra screws, wrench and owner's manual. Requires 60psi regulated compressed air from an air compressor.

Classic handpiece with Foot control, idle adjust and dual regulators $1369
Includes stainless piston and $125 tungsten piston
Classic handpiece with PalmControl $2690
Tungsten Dead Blow Piston $125